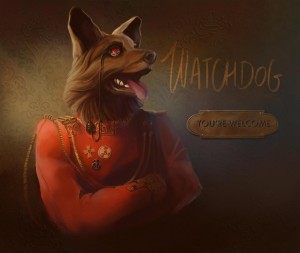 After Emilien Véret, Ismail Lumanovski & Inspector Gadje and Klarthe Quintet, all in various styles, here's another great find! Watchdog's debut album, "You're welcome", has nothing to do with any of the other albums I discovered lately, but it's definitely worth listening.
Watchdog is a duo, with Anne Quillier (piano, Fender Rhodes, Moog) and Pierre Horckmans (bass clarinet and Bb clarinet). They're both members of the "Pince-Oreilles" collective. Here is their view of the group:
Watchdog reflects our surveillance societies, self-controlled machines slowly taking over humans in a world where everything goes faster.

Breaking style boundaries, the musicians play, watch each other, interact, take risks with no limits in a constantly evolving sound universe.
It would be convenient to label their music as jazz, but each track is so different from the next that trying to categorize it is simply pointless. Here is a video and two audio excerpts, so you can hear by yourself. First track is called "Goosebumps":
Then, "Last dreamers", a melodic and rather relaxing piece, and "Watchdog", creaky, rhythmical, with more dissonant harmonies. The instrumentation suits the desired atmospheres remarkably.
The album will be released on 02/18 at the "Périscope" in Lyon (France). Here are the next concerts of Watchdog in France:
02/05 – Le Troquet de Marette (Châteaudouble – 26)
02/17 – L'U-Percut (Marseille – 13)
02/18 – Périscope (Lyon – 69)
02/25 – Le Cassiton (Longchaumois – 39)
04/10 – Le Rex – (Toulouse – 31)
04/27 – Siman Jazz Club (Bordeaux – 33)
07/07 – Jazz à Vienne (Vienne – 38)
For more details, you can visit the Pince-Oreilles collective website. When the album is released, I'll post the links to purchase it on this blog. To get in touch, you can subscribe by email at the top of the sidebar.